Featured on Caramel Corner!
Hello all,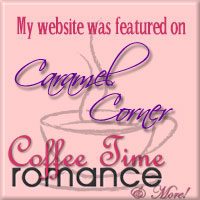 I know I'm overdue for a post so here it is! My website received a glowing review in the Caramel Corner on Coffee Time Romance which you can read below!
"Author Veronica Blade has an interesting website, simple yet spooky — black background, bats, and blood. A fun site with lots to explore, there's information about her books, herself, and even a paranormal quiz to diagnose your own paranormal alter-ego. While you surf the pages for tales of shifters, vampires, and werewolves, the author is off to eat, sleep, write, torture another character."
Thanks again to Rose Nomura for the fabulous design!