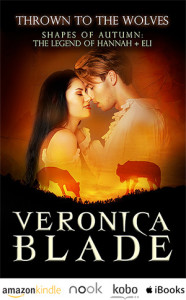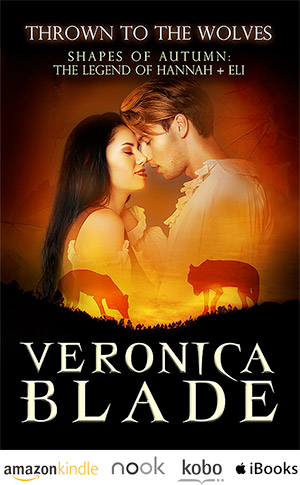 THROWN TO THE WOLVES
Shapes of Autumn: The Legend of Hannah and Eli
A young werewolf must fight for her life to gain freedom, but her triumph could mean losing her only chance at happiness.
Hannah, a seventeen-year-old werewolf, would rather be a peasant and free than dripping in jewels and wife to the tyrant werewolf king. Running from him will get her hunted, and most likely killed, yet she formulates a plan.
Sneaking around the castle, she encounters Eli, a handsome blond shape-shifter and slave to the king. Drawn to Eli as a fellow captive, she admires his courage and honor — qualities rarely seen amongst her own kind. With him, Hannah finds rare moments of joy in the place she's desperate to escape. Though she dreams of being with Eli forever, she knows he will never abandon his sister, another prisoner of the evil king.
Meeting in secret, Eli and Hannah's bond deepens as he trains her to protect herself. When she discovers the king's scheme to murder her after their wedding, Hannah must choose between a short life and brief happiness with Eli or freedom and a future without him.

Become a Street Team member!! If you read and love one of my books and shout it to the web-world, send me the link to your rave review for a chance to win a FREE pdf of a Veronica Blade book.
† † †
Feeling paranormal?
Take the Paranormal Quiz!
† † †
Shapes of Autumn: The Legend of Hannah and Eli
Download the epilogue for Thrown to the Wolves here.
Haven't ready Thrown to the Wolves yet? Get it here.
By Veronica Blade
Free download below!
Scene extras for My Wolf's Bane
1.1 The Beginning: pdf | mobi
1.2 The Complication: pdf | mobi
If you enjoyed this, share the love and rate on Goodreads: 1.1, 1.2, 1.3, 1.4 Thanks!
Single Girls: Book one
By Veronica Blade
Release date: Now Available!
Alex single-handedly takes down a bully. A safer school has its perks, but what else did the years of martial arts training get her? Not a prom date, that's for sure. With only a few weeks left before the big day, can she stop the tough act long enough for the boy of her dreams to see she's still just a girl? READ ON
"This is one of the sweetest stories I've ever read…You are missing out big time if you do not get a chance to read this story. Veronica Blade is so talented and i just can not wait to read upcoming stories by her. She is truly amazing." –mike