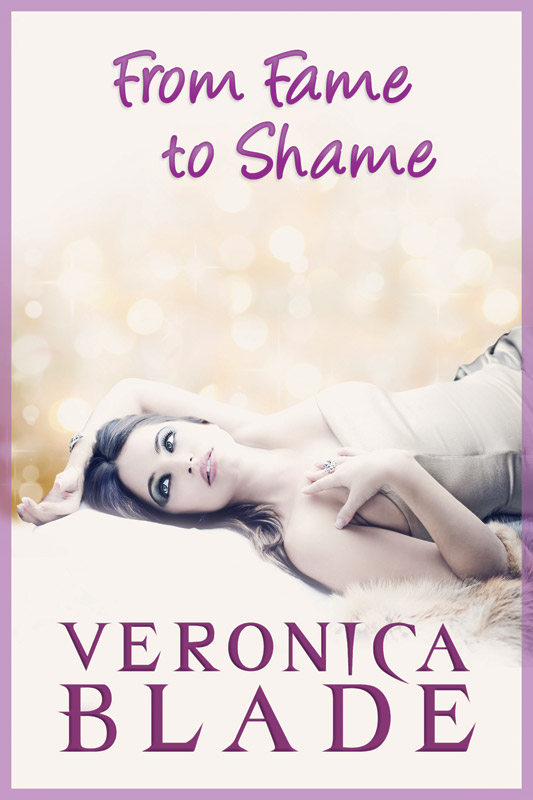 From Fame to Shame
By Veronica Blade
Release date: Now available!


When good-girl Maddie switches places with her famous bad-girl twin Jackie, she has some pretty high stilettos to fill.
Despite the danger of tabloid drama if their identity swap is discovered, Maddie has to save her sister's butt. When Jackie's ex-boyfriend shows up with a rekindled spark for "Jackie," his deep gray eyes and sweet kisses make Maddie's heart thumpety thump. But dating the guy who dumped her sister is a no-no. Too bad Dallas isn't used to girls saying no. What will happen when he discovers Maddie's deception?

EXCERPT
"And what are your plans tomorrow tonight?" Dallas reached up to rub a lock of my hair between his thumb and finger.
"Plans?" My mouth went dry. He stood way too close and my concentration slipped.
"You always have plans." His eyes caressed my face.
"Not tomorrow night." Somewhere deep in my soul, I knew that was the wrong answer. But when your brain stops working, telling the truth is so much easier.
"A friend told me that Josh Adams is jamming at Hanks Blues. It's supposed to be a surprise. Should be fun."
I nodded, since it was all I was capable of at the moment.
"We'll have dinner there. I'll pick you up at six."
Preventing Dallas from making another date with me would've been smart. The words hovered in my throat, but I couldn't force them out. Even if I didn't reject his offer, I needed to say something. Or, at the very least, finish cleaning up after breakfast. And yet, I couldn't move. I just stared into his eyes as they fixed on mine.
His gaze fell to my mouth, then he reached both hands up to cup my face and, inch by inch, lowered his mouth to mine.
Our lips touched, feather-light. He shifted his body and brought his thighs against mine, but he didn't deepen the kiss. He just skimmed the surface, gently teasing my mouth until my nerve endings hummed. Seconds stretched and my lungs stilled as I ached for more.
Then, slowly, he withdrew, keeping close enough that I still felt his warm breath against my skin.
I couldn't catch my breath. A thick haze clouded my brain and I worried he might ask me something, anything, that required a response and I'd slip up. Fear that I'd blow it for Jackie paralyzed me.
Oh, my God! Jackie! If she knew I'd just kissed the guy who dumped her, she'd feel hurt and betrayed and what had we just talked about? Jackie didn't need this, on top of everything else.
"I…" I had no idea what to say. I only knew that if someone didn't say something soon and break the trance, I would let Jackie down worse than I already had. Because, more than anything, I wanted this guy, no matter how nice he was.