If you love a good teen romance with an adult edge, you've come to the right place! Take a look around — do the Paranormal Quiz to find out if you're a shape-shifter or a vampire, check out the freebies on the Extras page, read an excerpt, or download a free story. Or all of the above.
Have fun and happy reading!
♥ Veronica
☆ F E A T U R E D ☆
My Wolf's Bane
Different species.
Mortal enemies.
It'll never work,
but they'll die trying.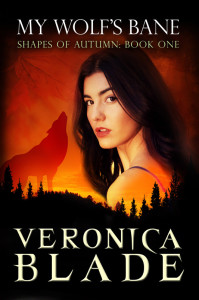 Autumn Rossi thought she was a normal teenager. Suddenly, she can outrun the creatures of the forest, making her wonder if she's even human.
When the new guy at school, Zack de Luca, witnesses a questionable scene, he unfairly pins her as stuck-up. He acts like he hates her, yet he keeps bailing her out of trouble. Not only is Zack insufferable and irresistible, he seems to sniff her anytime he gets close.
As passion flares between them, Autumn isn't sure which is more dangerous: her psycho ex-boyfriend, or falling for Zack — who's risking his life just by being near her.